Across Australia, individuals and businesses choose to hire instead of purchasing a shipping container. Whether they want to create a pop-up cafe, launch a new brand or are undertaking home renovations, hiring has many benefits.
Find out the four top reasons why hiring a shipping container is the smart option.
Summary of benefits:
Affordable
You can hire a shipping container in Australia for as little as $2.20 per day. Save thousands of dollars in upfront costs. Get tax deductible, affordable monthly hire fees.
You could buy a shipping container, which typically costs under $3000, or enjoy the peace of mind of hiring a container knowing that you can manage cash flow and your monthly budget. Grow your business with the spare cash that you will have. Invest in other areas of your business including marketing and advertising. Hiring a container saves money on fixed business expenses.
Temporary Uses
A shipping container is an ideal solution for temporary uses. Instead of investing in an expensive permanent structure, you can hire to suit your short-term needs.
Hire a refrigerated shipping container for your food business and create an affordable cool room. Create a temporary storage solution during your busy Christmas retail season. Our 40′ refrigerated shipping container is the ideal size for an expansive storage facility and has the equivalent space as a two-car garage.
Unlike other temporary structures, a shipping container offers you the benefits of robust steel construction, lockable and secure fittings, wooden floors and is fully transportable.
Even weekend markets are switching from temporary marquees and umbrellas to shipping containers. Eat Street Markets, at Hamilton Wharf, in Brisbane is an exciting food concept that combines colourful shipping containers and a diverse array of international food stalls.
Are you renovating your home? A shipping container will fit in even the smallest backyard and gives you storage space for your furniture, valuable household goods – and even your vehicles. Instead of storing your items at an off-site storage facility, you have convenient access to your household goods.
Launch a new brand, run seasonal sales or test-pilot a new market, with a pop up retail space.
Flexibility
Experience flexibility with a hire container. You can choose short, medium or long term hire depending on your needs and budget. The options are endless. All that is left is your creativity! Go wild and design a container solution for every residential or commercial use.
Mobility
Shipping containers are taking the world by storm as the ideal mobile structure. Whether you need a mobile home or office space, you can transport your container to different locations.
A 20′ or 40′ container is transportable on a semi-trailer, tilt tray, side tray or crane truck. Your site does not need to be easily accessible, as a crane truck can lift your container over walls or fences.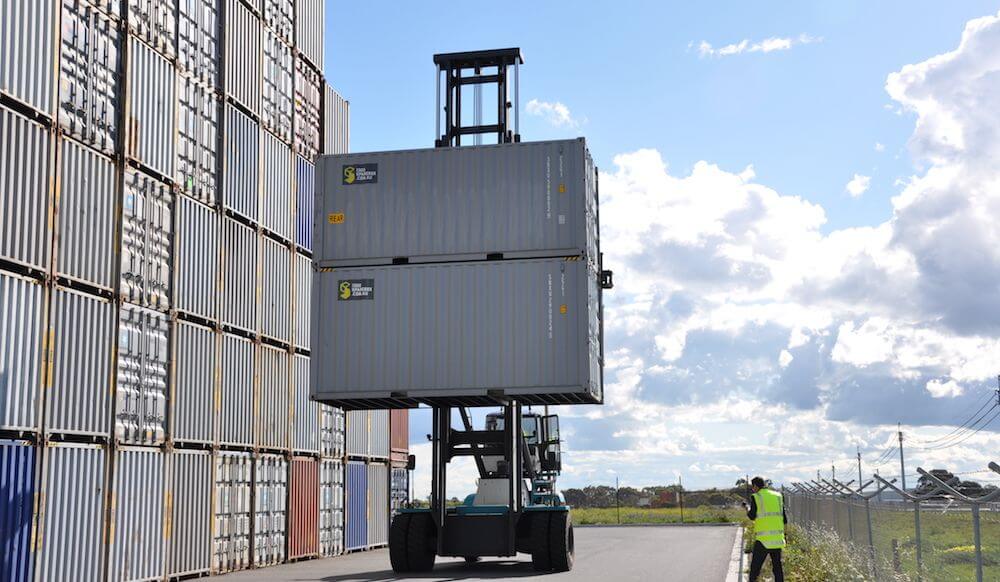 Hire a shipping container in Melbourne, Brisbane or Adelaide. 1300 SPAREBOX delivers nationwide. We offer you expert advice and the flexibility of hire and buy options. Create a temporary office space, for a property development, store your household goods securely during home renovations or get started on a business concept. Hiring is the easy and affordable way. Contact us today to get started on your project.